Liverpool First Aid Courses
Best Value First Aid Training
First aid courses in Liverpool for businesses, contractors and the public.
Liverpool First Aid Courses
Are you interested in learning basic first aid? Perhaps, you want to ensure that you have the skills to help provide support in the event of a major accident. Regardless of your needs and requirements, we're here to help. With our Liverpool first aid courses, you can gain the knowledge and skills required to help team members, family, friends, or employees who have been injured in an incident. 
The training courses we provide at our training centre in Liverpool provide support to treat various types of injuries including:
Cut and scrapes

Broken bones 

Burns 

Defibrillation
With the knowledge and training we offer, you will be in the right position to help provide the treatment an individual requires or even save their life in an emergency situation. First aid training can provide peace of mind to a parent or ensure that a business is operating at the right safety standard with trained team members on staff. 
Different Types Of First Aid Courses We Offer
You can choose from a variety of first aid courses in Liverpool available from our organisation. 
First Aid At Work
We provide both emergency first aid at work and standard first aid at work courses. These can be used to ensure team members who work in low-risk environments are able to provide first-aid treatment to anyone who has been injured in a place like an office. 
These first aid courses will also address issues with injuries and diseases that your employees may be impacted by in your work environment. 
View 1 Day Emergency First Aid at Work Course
View 3 Day First Aid at Work Course
View 2 Day First Aid at Work Refresher Course
Paediatric First Aid 
This course is largely suitable for any individual working with children including nannies, childminders, nursery workers, and even parents. 
View 2 Day Paediatric First Aid at Work Course
frequently Asked Questions
Why Choose Our Service For Liverpool First Aid Training?
We strive to ensure that we offer the best first-aid training solutions to companies and individuals in and around Liverpool.
All of our courses are managed by instructors with years of experience and advanced knowledge. We work to ensure that we only recruit the best instructors who will always be able to deliver the right level of support. Our trainers have a minimum of five years of training experience to ensure that they reach the right quality standards.
As mentioned, our courses are also suitable for anyone and everyone who wants to acquire first aid skills in Liverpool. With our training solutions, you will be qualified to respond to incidents for three years before further training is required. 
We also aim to provide a flexible solution. While you can attend a first aid training course at one of our centres in Liverpool, we are also equipped to provide an in-house solution. With this option, we can provide training around your individual work schedule and ensure that team members receive training without any disruption to your work model.
Unlike other companies, we take a variety of different learning approaches, incorporating various styles of learning into our courses. In doing so, we can ensure that our courses remain accessible, easy to follow and provide a short learning curve.
Why Use A First Aid Training Course In Liverpool?
Companies with team members who have first aid qualifications can advertise this on their website, highlighting a commitment to team safety. First aid courses will also empower employees and individuals to respond appropriately in different situations, offering the support that people need. This can also help to build a more trusting and positive office culture. 
Contact our team today to learn more about the first aid training courses in Liverpool we provide or to discuss your specific requirements. 
What are the entry requirements for first aid courses?
The entry requirements for first aid courses can vary depending on the type of course being taken. Generally speaking, you should be a minimum age of 16 years old. Participants should also have a reasonable level of physical fitness and be able to understand clear instructions in English.
Is having a qualified first aider in the workplace a legal requirement?
The legal requirement for a first aider in the workplace depends on the size and nature of the business. For small businesses with fewer than five employees, there is no legal requirement to have a qualified first aider. However, employers are expected to assess risks and take appropriate measures to ensure the wellbeing of their workers.
If your business has more than five employees, then you must appoint at least one qualified first aider in accordance with the Health and Safety (First Aid) Regulations 1981. This means that they must hold a valid certificate of competence from an accredited training provider. The number of qualified first aiders may need to be increased depending on the size of the workplace, any hazards present, and the number of workers.
It is also important to ensure that your first aider is competent and confident in providing emergency aid in the workplace. This means ensuring that their qualification is kept up to date by attending refresher courses regularly.
Ultimately, it is up to employers to assess the risks in their workplace and decide on the best way to protect their staff.
A First Aid at Work course covers a range of topics that are important for the workplace. This includes:
– Recognising and dealing with medical emergencies such as heart attack, stroke and choking
– Dealing with minor injuries such as cuts and fractures
– Administering basic life support (CPR)
– Recognising and dealing with shock
– Dealing with minor burns and scalds
– Assessing an incident scene
– Administering first aid treatments for eye injuries, head injuries and allergic reactions
– Providing advice on when to refer someone to a healthcare professional or hospital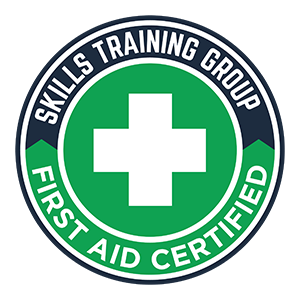 You'll receive the Skills Training Group – First Aid Certified badge which you can display on your website or marketing material to demonstrate your investment in first aid skills for your staff.
The Federation of First Aid Training Organisations (FOFATO) represent over 400 first aid training providers throughout the UK. A FOFATO member displays you meet a level of due diligence with regards to training standards.
Versatile First Aid Training In Liverpool
Our Liverpool first-aid training solutions are suitable for anyone who is interested in learning these skills. For instance, you may be working in a school or an office. With first aid training, you can guarantee that you are a more valuable asset to your organisation or company, helping to keep people safe. 
Alternatively, you could be keen to gain first aid training to keep your family safe. Our first aid training courses are a fantastic option for parents and family members who want peace of mind that they will be able to respond the right way when their child or loved one has been injured. 
We have a wide range of courses for you to choose from. Alternatively, you can contact our team directly and we will work to find the right option for your specific needs. 
Ranelagh St, Liverpool is well-served by public transport. The closest train station is Lime Street Station which is served by Merseyrail and Northern Rail services. From here you can take a direct bus to Ranelagh St using the 10A, 10B or 23 services. You can also take the 81/82 service from Queen Square Bus Station, which is located a short walk from Lime Street Station.
Alternatively, you can take a taxi directly to Ranelagh St and there are plenty of local operators who provide this service. Finally, for those looking for an even more convenient option, Uber also operates in the Liverpool area.
With all these options available it should be easy to get to Ranelagh St, Liverpool.
Please always check with local authorities and operators for the most up-to-date information on transportation links and routes.
Driving Times To Our Liverpool Centre
Travelling From Birkenhead
Birkenhead is approximately 4 miles (6.5 kilometers) from Liverpool, and it would typically take around 15-20 minutes to drive from Birkenhead to Liverpool.
Wallasey is approximately 6 miles (9.7 kilometers) from Liverpool, and it would typically take around 20-25 minutes to drive from Wallasey to Liverpool.
Bootle is around 2 miles (3.2 kilometers) from Liverpool, and it would typically take around 10-15 minutes to drive from Bootle to Liverpool.
Travelling From Southport
Southport is around 17 miles (27.4 kilometers) from Liverpool, and it would typically take around 30-40 minutes to drive from Southport to Liverpool.
Wirral is around 7 miles (11.3 kilometers) from Liverpool, and it would typically take around 15-20 minutes to drive from Wirral to Liverpool.
Travelling From St Helens
St Helens is around 15 miles (24.1 kilometers) from Liverpool, and it would typically take around 30-40 minutes to drive from St Helens to Liverpool.
Travelling From Warrington
Warrington is around 25 miles (40.2 kilometers) from Liverpool, and it would typically take around 40-50 minutes to drive from Warrington to Liverpool.
Widnes is around 12 miles (19.3 kilometers) from Liverpool, and it would typically take around 25-30 minutes to drive from Widnes to Liverpool.
Runcorn is around 20 miles (32.2 kilometers) from Liverpool, and it would typically take around 35-45 minutes to drive from Runcorn to Liverpool.
Ormskirk is around 18 miles (29 kilometers) from Liverpool, and it would typically take around 30-40 minutes to drive from Ormskirk to Liverpool.
Crosby is around 8 miles (12.9 kilometers) from Liverpool, and it would typically take around 20-25 minutes to drive from Crosby to Liverpool.
Complete our form and one of our team will be in touch with further information.